Padlok, a smart door code manager built with privacy in mind
---
Once more standing at building's door without codes? Not anymore!
Manage your addresses, and associated info
Get notified nearby
Share them in a blink!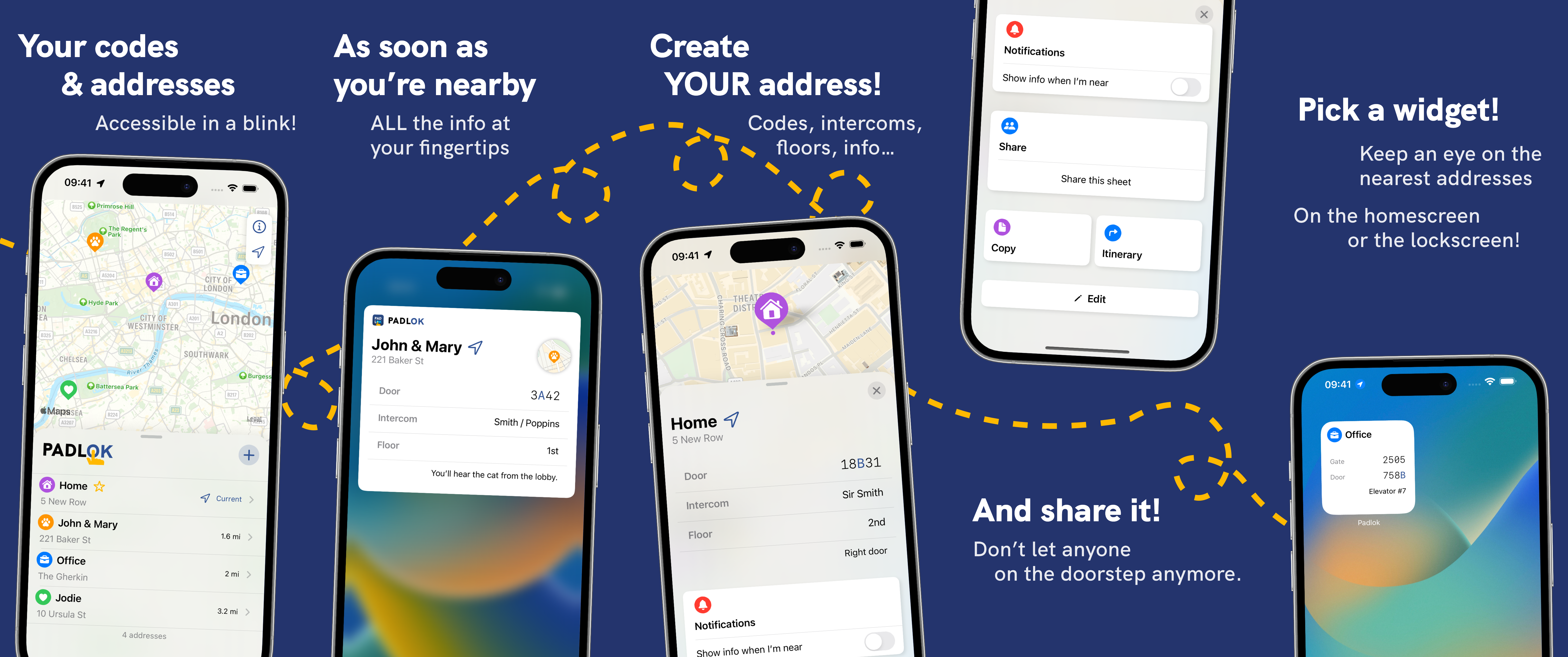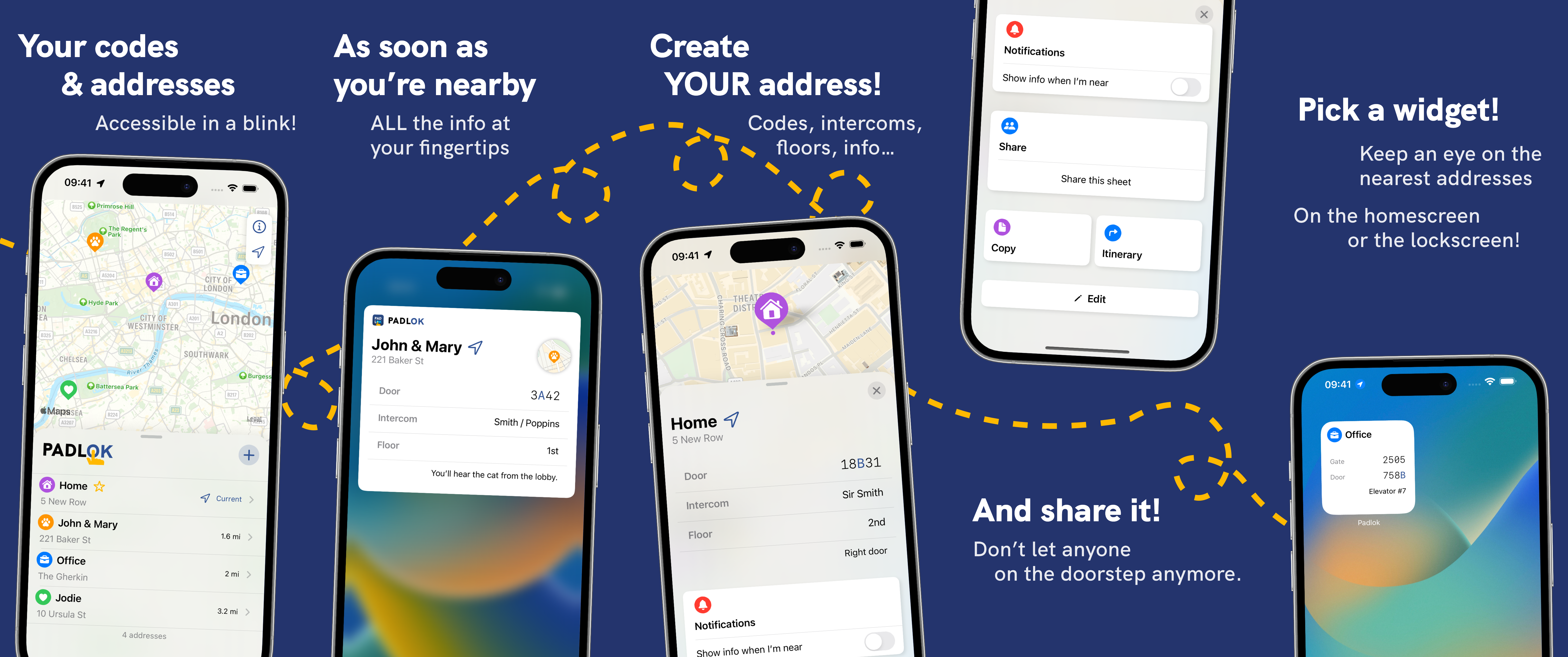 Features
Create your address sheets, and associate codes, intercom, floor, and any relevant access info
Add your address using a postal address, a contact, or by picking a place on the map
Customize your addresses: color, glyph, favorite, suggested by Siri or in widgets
Get a notification when you're approaching, it'll disappear if you just pass
Share your address end-to-end encrypted with a secure link (Example link), or with a Padlok QR Code
Import addresses you have retrieved by link, or QR Code
Open share links within the app, in an App Clip, or in a web-app
Tagging addresses, and a smart filter depending on your current Focus mode
Accessing and interacting with addresses using Shortcuts app
Lockscreen and homescreen widgets, showing the closest suggested address, or the one you select
Start an itinerary with your favorite app with a tap
WatchOS app for a on-the-go consultation
iCloud syncing to never loose your addresses
Roadmap
Customization of notification area, and the reception schedule
Create more than one share link per address sheet, with customized expiration time
Import and export addresses (compatible between iOS and upcoming Android app)
Compatibility
iOS 15 and more
watchOS 8 and more
Pricing
Padlok is free to download, and contains a pro tier called "Padlok Premium" that removes limitations and unlocks additional features.
| | Free | Padlok Premium |
| --- | --- | --- |
| Address limit | 3 | unlimited |
| Automatic notifications | basic | advanced1 |
| Share links per address | 1 | unlimited1 |
| Share links expiration | 45 days | customizable1 |
| Customization (icons, colors) | ✗ | ✓ |
| Tags and advance filtering | ✗ | ✓ |
| Biometry lock | ✗ | ✓ |
| Data import / export1 | ✗ | ✓ |
The following tarification is available for Padlok Premium:
| | US $ | FR € | UK £ |
| --- | --- | --- | --- |
| Mensual subscription | $0.59 | 0.49€ | £0.49 |
| Annual subscription | $3.49 | 3.99€ | £2.99 |
| Unique lifetime payment | $14.99 | 17.99€ | £14.99 |
Currently writing an article about Padlok?
Ask us a free promo code in private on Mastodon or by mail to test Premium features 🙂
Featurings
Description
Padlok is a secure door code manager that allows you to store and access in a blink to all your addresses, codes, intercoms, floors and much more.
Having a bad time looking for the codes in front of doors? Padlok sends you a notification with all info required when you arrive nearby; You can also have around all infos needed by adding Padlok widgets on your homescreen or lockscreen.
The app Premium service also unlock great features: no more restriction for adding all your addresses, customize them, and lock you application using biometry sensors, and much more!
Padlok's mission is to make your daily life easier by offering you an effective management tool, but it does not neglect privacy, and takes the security of your data very seriously! CloudKit storage and end-to-end encrypted share technology guarantee global privacy and security for your data. That way, only the contact you share your infos with will have access to it. Inclusiveness is also in the core of the app, which offers free customization of its App Icon. Compatibility with Apple accessibility technologies like VoiceOver also ensure that Padlok is available for everyone.
Our story
The idea of a smart door code manager is born right after an evening spent at a friend's place. While we were at the doorstep of the building, the rain and the groceries we did for the night made it difficult to search for the codes in a contact sheet, in the notes, or even in the messages. The idea draw itself: "Isn't there an app for that? It would notify us automatically in front of the door, and would give us the info." That's how Padlok journey began.
Our mission: make your daily life easier by bringing an intuitive and functional door code manager, compatible with most devices (iOS, WatchOS, and soon Android); while never neglecting privacy and security of the data compose our ethic values.
---
Continue with images